Hi everyone,
Just wanted to share this with everyone.
On behalf of Longo Scion, we at M2-Motoring and Longo Scion would like to invite everyone to our annual event. The name of the event is New Dimension. It's free for all to attend, show, or even drag race. That's right costs you ZERO . Check out the flyer and info below.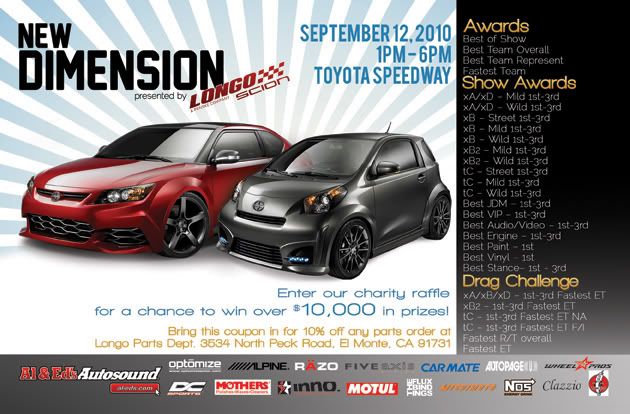 September 12 2010
Toyota/Irwindale speedway Address - 500 Speedway Drive • Irwindale, California 91706
1pm-6pm
The categories are as follows
Awards:
Best of Show
Best Team Overall
Best Team Represent
Fastest Team
Show Awards:
xA/xD - Mild 1-3
xA/xD - Wild 1-3
xB - Street 1-3
xB - Mild 1-3
xB - Wild 1-3
xB2 - Mild 1-3
xB2 - Wild 1-3
tC - Street 1-3
tC - Mild 1-3
tC - Wild 1-3
Best JDM - 1-3
Best VIP - 1-3
Best Audio/Video - 1-3
Best Engine - 1-3
Best Paint - 1
Best Vinyl - 1
Best Stance - 1-3
Drag Challenge:
xA/xB/xD 1-3 Fastest ET
xB2 - 1-3 Fastest ET
tC - 1-3 Fastest ET N/A
tC - 1-3 Fastest ET F/I
Fastest R/T overall
Fastest ET
We are also having a raffle for our event where proceeds will go to charity. The raffle tickets are $2 each or 3 tickets for $5. If you were at our event last year, the raffle prizes are EPIC. Sponsors of our event are generously donating product towards our event and the sponsors for this event are below.
Al and Eds Autosound
Mothers car care products
DC Sports
5axis designs
Mishimoto
Parle clothing
Clazzio
Motul
Scion Optimize
Alpine
Carmate
Razo
Inno Roof Racks
Flux snow board bindings
Autopage
Tokico
Wheel Pros
NOS Energy drinks
Pinkberry will also be there selling frozen yogurt and proceeds of sales will be going to charity as well!
This just in. We will have the new 2011 tC and iQ on display also for all of you that want to see it in person!
Make sure you pre reg for this event @ www.m2-motoring.com as it helps us plan or enough space for you all to be there! Thanks!!!
Did I forget to mention it is
FREE!!!!!