And I'm back!!!! LOL. Sorry for the lack of updates lately. I've been busy with other things that i haven't had time to do much with the blog. So with out further ado, i bring you, the car, of, the, DAY!!!
Today's car goes to my friend Steven Vuong aka The Asian Steven Seagal. Steven is a really funny guy and im proud to cal him my friend. Not only that, he drives a sick VW GTI, one of my favorites by far. He's been featured in PAS Mag and had been a SEMA car 07-09. He also has been featured on HIN.com and in their calender.
Enough of me talking, here is the mod list and pics of his ride!
The Mod List...
Exterior:
Reiger Front Lip
Reiger Side Skirts
Reiger Rear half bumper
Reiger Front air splitter
Caractere Sport Wing
Open Fog light Grills
Seibon Carbon Fiber Hood Matt Finish
Aero Catch Hood Pins
Euro Spec VW Projector Fog Lights
Weather Tech Window Visors
6000k HID bulbs
Ventra Shield Clear Bra
Custom Decals by Instyle Graphics
Interior:
Cobra Seats w/ custom seat brackets
Crow 3" harnesses
Custom Roll Cage with Removable Harness Bar
New South Performance Boost Gauge New South Performance Oil Temp. Gauge
New South Performance Oil Pressure Gauge
New South Performance Exhaust Gas Temp. Gauge
New South Performance Center Vent Gauge Pods
New South Performance Steering Column Gauge Pod
S2t performance One Piece CNC Pedal Shifters
Apexi Limited Edition Turbo Timer
European VW light switch
Engine:
APR Tuned Stage II ECU upgrade
APR Tuned Down Pipe
APR Tuned High Pressure Fuel Pump
ABD Front Mount Intercooler
ABD Cold Air Intake
Forge Motorsport Diverter Valve
JIC one off titanium dual outlet, dual tip exhaust
Evolution Motorsport Turbo Heat shield
Evolution Motorsport Aluminum Engine Cover
Nitrous Express Intercooler Spray Kit
Suspension:
JIC-Cross Competition Coilovers
Hotckis Front and Rear Sway bar
Stop Tech Big Brake kit
Stop Tech Slotted Rear Rotors
Stop Tech Steal Braided Lines Front and Rear
Axis Street Pads front and Rear
ATE Super Blue Racing Brake Fluid
Wheels and Tires:
TSW Donington Matt Black Finish 18x8
Hankook RS-2 tires 225/40/18
Stud Conversion with extended stud
Kics Projects neo chrome extended lug nuts
Audio:
Memphis Car Audio M Class 5.25 components
Memphis Car Audio M Class 6.5 components
Memphis Car Audio M Class 4 channel amp
Memphis Car Audio M Class 500 watt mono block amp
Memphis Car Audio M Class 10" subwoofers.
Memphis Car Audio M Class Tweeters with cross-over
Pics...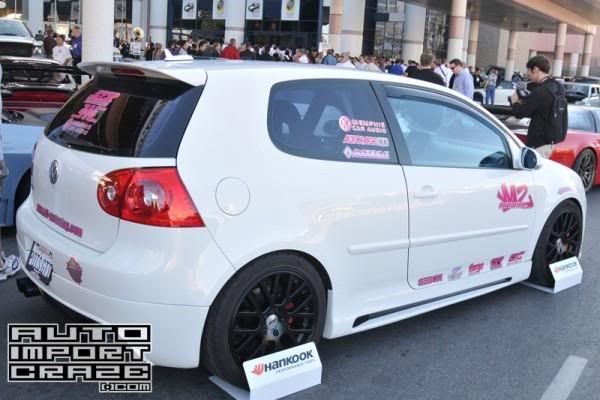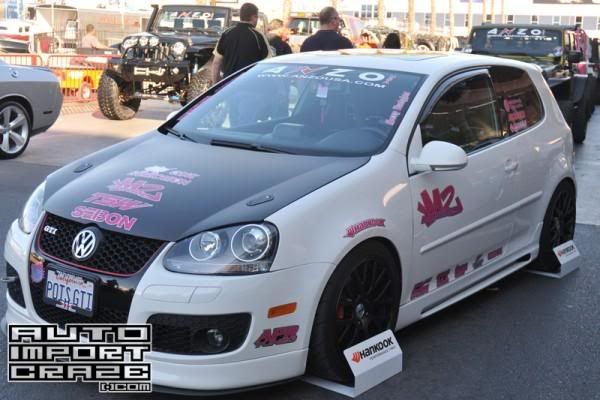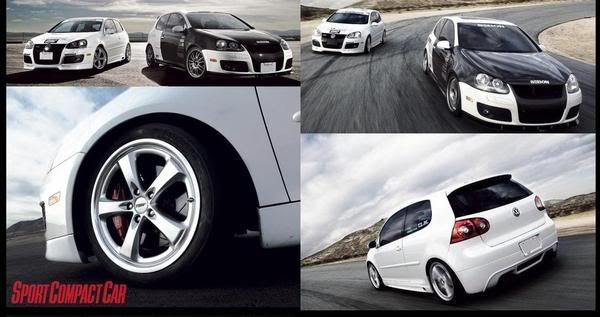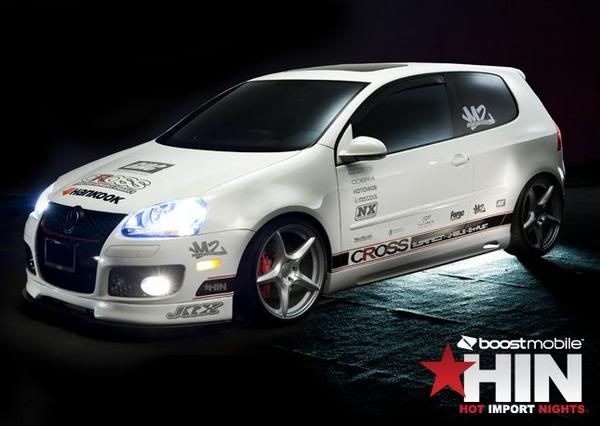 I told you it's a sick GTI huh? Keep it up Steven!
-EAmon
Want to be a featured car on here? Send an email with pictures and a modlist to eamon[dot]jalali[at]me[dot]com.