Today's car of the day goes to another VIP Fusion member, well actually the founder of VIP Fusion, Dietter Aragon. He rolls with Scion Evolution SoCal as well. He drives a 2nd Generation Scion xB aka Project R.E.D.
The Mod List...
Engine / Performance
· Custom Painted Engine Cover
· NRG e-pac-3 Voltage Stabilizer
· TRD Cold Air intake, Custom powder High Gloss Black.
· Weapon-R Stainless Steel 4-2-1 Headers
· Weapon–R Stainless Steel S-pipe
· Weapon–R C.E.L. Eliminator
· Tsudo Fireball Cat back Dual Exhaust System
Wheels / Suspension
· Tokico HP Blues Performance Struts and Shocks
· Hotchkis TVS Stage 1
1. Hotchkis Front and Rear Lowering Springs
2. Hotchkis Front and Rear Performance Swaybars
· Project Kicks 15 mm spacers (Rear)
· 19 x 8 TRD Wheels Custom Powder coated High Gloss Black with TRD Red Pinstripe (Time Attack Style)
· G2 RED, Painted OEM Calipers
· Rotor Works Premium Drilled Slotted Rotors (Front and Back) (not Installed)
· Currently sporting some OEM Steele's during until wheel come in courtesy of MR. JAY PAING, thanks hommie!
Exterior
· Five Axis Design xB Lip Kit ( Classic Silver Metallic)
· Black Sand Pearl, Roof
· Black Sand Pearl Mid Bumper section
· Rebadged with all Toyota emblems (painted Black Sand pearl)
· Custom Painted Headlights, High Gloss black
· Rear LED tail lights custom made from Longo Toyota
· LED rear license plate lights
· LED Puddle Lights from LEDMOD.com
· TRD Cold Air intake driver side Vent
· Shark fin Antenna custom painted Black Sand Pearl
· Seibon Carbon Fiber OEM Hood
· Seibon Carbon Fiber OEM Rear Spoiler
· Seibon Carbon Fiber OEM Rear Hatch (not installed)
· Mc Colluch HID's
o Headlights 8000k
o Foglights 3000k ( Brilliant Yellow)
Interior
· Clazzio Perforated Leather seat covers with red stitching
· TRD JDM shift knob
· NRG Pilota Style , Sport Leather Steering wheel with Red Trim
· NRG Short hub
· NRG Quick Release Gen 2.5 kit
· Custom LED swap on instrument panel (RED)
· Custom Gadge Swap from LEDMOD.com
· Custom AC/Temp Gauge Swap from LEDmod.com
· Stainless Steel Scion Illuminated Door Stills
· 12 inch Kicker Solo baric Sub woofer
· Pioneer 800 watts amplifier
· Rockford Fosgate capacitor
· Pioneer Avic 700BT Navigation Unit
· Red Anodized accelerator and brake racing pedals
Pics: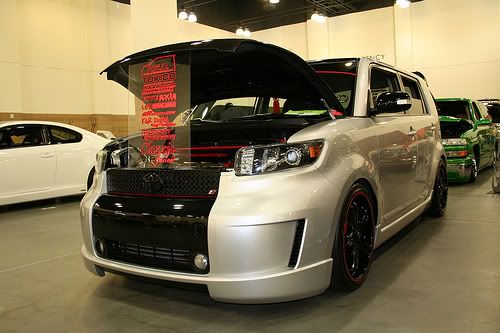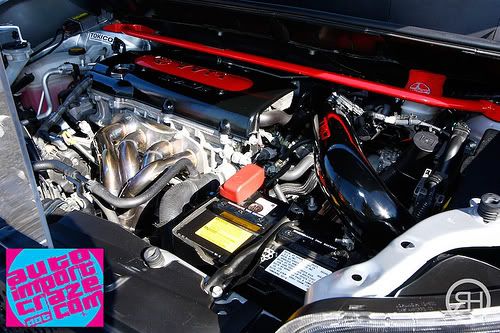 From what I've been hearing, Dietter is stepping up his wheel game and getting some HellaFlush wheels... I cant wait to see what he is going to be running next. Whatever it is I know its going to be something good.
-EAmon
Want to be featured on Ramblings Of A Wookie? WELL I WANT YOU TO BE!!!! Just email me a modlist and pictures to eamon[dot]jalali[at]me[dot]com.